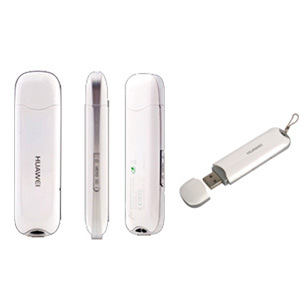 USB (Universal Serial Bus) modems provided by networks in Ghana are locked to specific SIM (Subscriber Identity Module). This means, for instance, if you buy a modem from Telecom company A, the modems accept SIMs only from company A's network.
There are however a number of ways to get around this and get your modem working with all SIMs, no matter what network they belong to. I am going to take you through what I think is the simplest method.
Before I go ahead, you're probably asking yourself, "is this legal?" In my most humble opinion (and don't forget I am not a lawyer), these telecom companies have no business locking these modems in the first place. With the introduction of Mobile Number Portability, I think modems should be portable as well.
As already mentioned, I am not a lawyer and my opinions and/or advice may not necessary reflect the prescriptions of the law. I have not come across any law that prevents me from teaching you how this is done.
I have also not come across any law that says you cannot unlock your own modem. However, whether or not you will go ahead and do it is your own responsibility, and I cannot be responsible simply because I taught you how to. (You can actually go ahead and read on if you agree to the above stated terms. If you disagree and still feels like holding me responsible for doing what I taught you, in case of any legalities, please feel free to log off this page.)
Let's begin:
Every modem has an IMEI (International Mobile Equipment Identity). This number is unique for any specific mobile device. On modems, they are usually on their backs and usually a fifteen-digit number written thus: 'IMEI: 123456789012345′. This is the number we are interested in. If you do not find this, it may be hidden under SIMs on the SIM beds (where you place the SIM in the modem). Remove your SIM and you may find it there.
After grabbing your modem's IMEI, type the following into your browser:
http://bb5.at/huawei?imei=<your
modem's IMEI>. Do not press 'enter/return' yet. UPDATE: The bb5.at server has been down for sometime now. Click here to unlock online ». Jump to STEP 5
Replace '<your modem's IMEI>' with the IMEI of you modem. For instance, if the IMEI of our test modem is 123456789012345, the address in the browser's address bar should be:
http://bb5.at/huawei?imei=123456789012345.
After this we hit 'enter/return' on our keyboard and voila!
You get a screen that gives you your unlock key (number), plus a key to flash the device (flash may actually reset your modem to factory default. I have not tried this yet). What we are interested in is the unlock key, usually 8 digits long.
Grab the unlock key (copy and paste somewhere). Insert the modem into a PC (Personal Computer) and install the modem's software if it is not already installed.
After installation, remove the SIM from your modem and replace with a SIM from another network. For instance, insert SIM from network A into modem from network B (It is not supposed to work as the modem is still locked. You still have to go ahead and do it anyway).
Plug the modem, now with the 'illegal' SIM, back into your PC. Run the modem's software, and it will open with a dialogue box requesting for the unlock key. Paste the unlock key into the field provided in the dialogue box and hit OK. (Remember you have up to 10 tries. If the key fails, check to see that you typed your IMEI correctly and repeat the process.)
SPECIAL CASE FOR VODAFON MODEMS
Software of modems from Airtel and MTN are similar; Vodafon is different (I have never seen or used a TiGO modem so the entire process may not work for TiGO modems). Early Vodafon modems were not locked; only the modem's software is locked. Note the distinction between the modem as a hardware, and the software for connection to the internet. This is the software I am talking about. It has been programmed to accept only Vodafon SIMs.
Softwares for Airtel and MTN are, however, universal. So for people who use the early versions of the Vodafon modem, simply insert any SIM from any network at all, and connect with an Airtel or MTN software (not the Vodafon software) and it should work (no need to unlock the modem as it is not locked).
I have seen that latest versions of the Vodafon modem is locked. If you have this type, you will know after you try the step above and you are asked for an unlock key. Just go through the process of unlocking it and REMEMBER: Even after unlocking a locked Vodafon modem, you still need to connect with an MTN or Airtel software before it works with SIMs from other networks.